French Fries are so popular and loved in India that they certainly don't need an introduction. Brown or golden soft strips of fried potatoes full of spices and savoury tastes that make for a heavenly treat with dips, sauces, spices, cheese and a lot more.
French fries are among one of the most loved side dishes in the world, often served on the side of burgers, sandwiches etc to provide a more fulfilling meal. But did you know that French fries may not actually be French?
Why Are French Fries Called French Fries?
That's right ! This tasty dish may not be from France ! The origins of French Fries may be in Belgium.
When World War 1 was going on, American soldiers stationed in the francophone region were met with a unique lip-smacking dish. The dominant language in Southern Belgium is French which is how the popular name was bestowed upon this sacred side dish of heavens.
The truth is that the origin of French fries has been quite a debatable topic. French fries, the delightful culinary gift is claimed to be of French origin by the French and Belgian origin by the Belgian. There are also South American and Spanish theories of how French fries came to be but the most commonly accepted origin theory of French fries is the Belgian theory.
Belgium Origin of French fries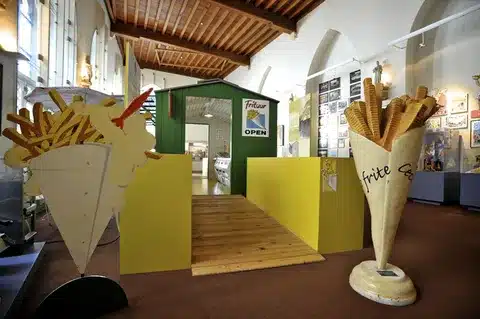 According to Belgian lore, In the late 17th century, villagers in Meuse Valley would catch small fishes from the river and fry them for food. However, during winter, the river would freeze over making the fishing a very tough or almost an impossible task.
This led to them turning to root plants, potatoes. They would prepare them the same way they prepared fish by slicing and frying them, giving the world this famous dish. Thus, Belgium gave the world the popular French fries.
Types of French Fries
Regular/Standard Fries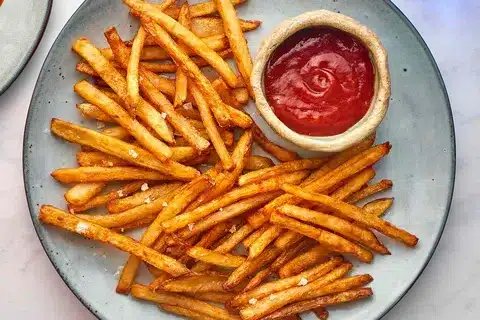 The Regular or standard cut fries are the most popular and common type of fries and what makes them crave-worthy is that they are quite easy to make. They also set the standard for comparison to differentiate various types of French fries.
Crinkle Cut Fries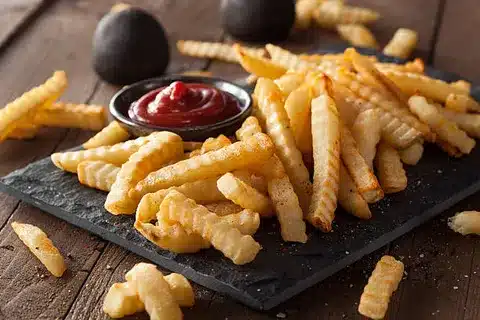 These uniquely shaped french fries are very much recognizable from their appearance. These crinkly yet soft and delicious fries get their name from the way they are cut. Moreover, They give a different but wonderful mouth-feel perfect to go with any kind of dips.
Steak Fries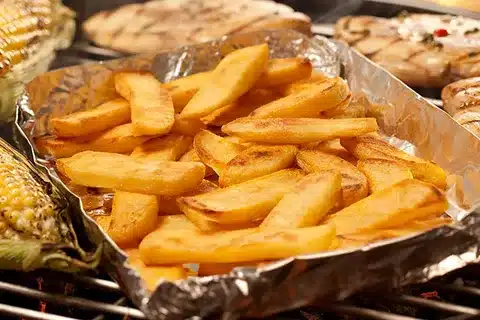 Steak Fries, slightly thicker deliciousness served with steak. Note, they are not steak fritters, entirely made up of steak. What makes them such a great option is that they are much fluffier than standard fries and can be baked or fried.
Shoestring Fries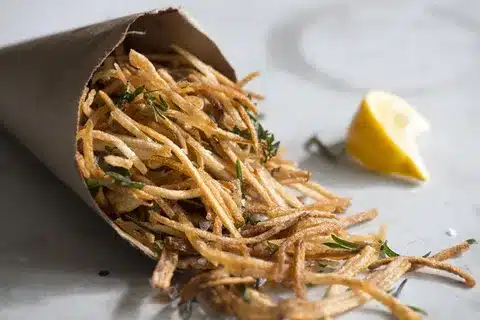 As the name suggests, these delectable fries are thin-cut and long like shoestrings. Their extremely thin exterior adds a crispy layer which tastes great with ketchup. Shoestring fries are one of the most popular type of fries since they cook faster than most of the other fry styles.
Sweet Potato Fries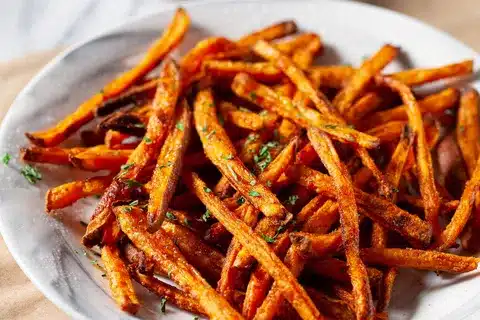 Sweet Potatoes are starchy root vegetables with a distinct sweet taste. They are a slightly healthier alternative to regular potato fries. Sweet potato fries have a unique flavour that matched with their versatility and nutritional value makes them quite an impeccable alternative.
Tornado Fries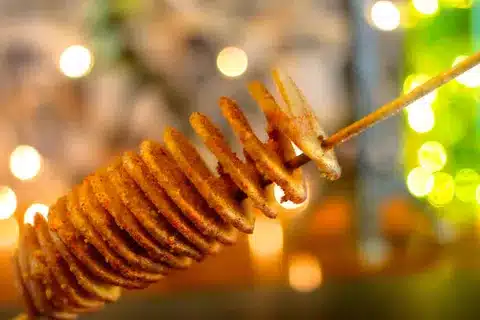 Spiral-cut fries or Tornado Fries or Potato twisters are best way to drool over potato. They are a very popular type of French fries, easily found in street food culture of India. These popular fries have a lot of delicious varieties and are quite the instagrammable bunch.
Poutine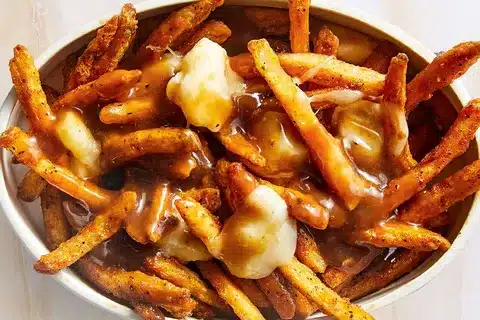 Poutine is a dish from Quebec. Made up of golden brown French fries with crispy exterior, melty cheese curds and mouth-watering gravy. Moreover, the poutine gravy has variations from veg to non-veg. It is a must try delectable type of French fries.
Popular French Fries Toppings
French fries toppings make these fingerlicking dishes even more savoury. Some of the most popular Indian toppings for French fries are:
Loaded Fries
Masala Fries
Peri-Peri Fries
Schezwan Fries
Tandoori Fries
Chatpata Fries
Cheese corn Fries
Mint Chutney Fries
Conclusion
This was a quirky little tale of French fries and the current stage of its many delicious variations. The National French fries Day is on 13th July. There's even a French fries Museum in Belgium called Frietmuseum. All the hype over a side dish just goes to show the incomparable love for it all over the globe.
Let us know your thoughts on this delightful side dish and subscribe to our newsletter for more fascinating food blogs.