If you happen to be a food lover then you might have felt like "aaj kuch toofani karte hein when it comes to the OG food!" And let's agree that we all wonder at times about how we can mix and match certain culinary delights which transforms into a complete new dish! Well, fusion food dishes are becoming the new trend with all the combination of cooking styles from various inviting cuisines. Now that you've already started pairing your dearest foods in your mind, let's dig right into this list of 8 fusion dishes that'll make you drool right awayyyyy!
1. Maggie + Pakoras = Maggie Pakoras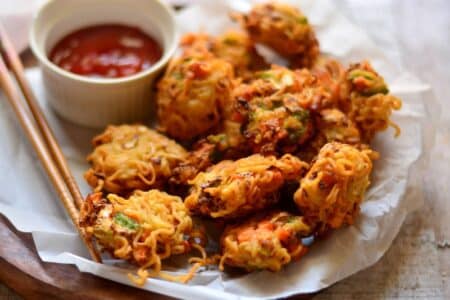 We bet you'll legit dream of these crunchy pakoras once you eat them! We cannot deny that Maggie is our go-to comfort food whether its 3AM or 3PM! And garma garam pakoras is all we need when the rain is pouring outside. Hence, how about trying the flavorful maggie pakoras? This dish of tempting flavors is perfect to spice up your monsoon evenings. Make some scrumptious Maggie pakoras and serve them with any of the preferred sauce or chutney.
2. Spaghetti + Sandwich = Spaghetti Sandwich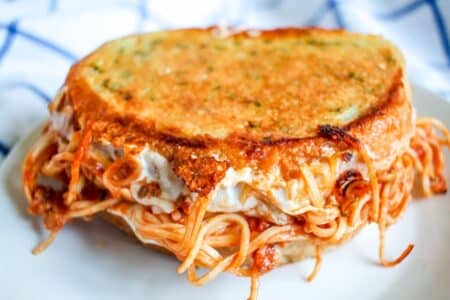 Sandwich for breakfast, lunch, or dinner with some twist is always a yes! Now, have you got any leftover spaghetti or bread in the house? Then prepare this drooling Spaghetti Sandwich to curb those hunger pangs. An amazing combination of bread toast and saucy spaghetti noodles is simply deliciousss! Make it fun by adding some cheese into it for the extra flavors. Trust us, it'll be the most welcomed snack, once you introduce this to your family.
3. Sushi + Pizza = Sushi Pizza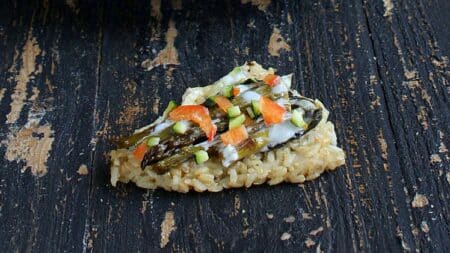 When two of the world's greatest foods come together, it works wonders indeed! That's what sushi and pizza does after coming together and forms Sushi Pizza! However, this tasty dish is full of satiating elements such as vegetables, rice, sauce, etc. Eat your pizza with a Japanese spin! Sushi Pizza can be a huge hit for all those who are rice and vegetable lovers! Don't believe us? Try it out for yourself and tell ussss.
4. Bananas + Pancakes = Banana Pancakes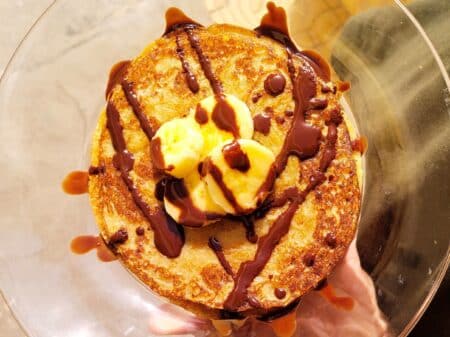 Banana Pancakes can be an ideal breakfast dish if you prefer pancakes and fruit for your breakfast. The fluffy and gooey pancakes are also perfect for lazy weekends or a Sunday brunch. Brighten up your day with these inviting pancakes and load them with lots of bananas and maple syrup, chocolate syrup, or honey!
5. Falafel + Salad = Falafel Salad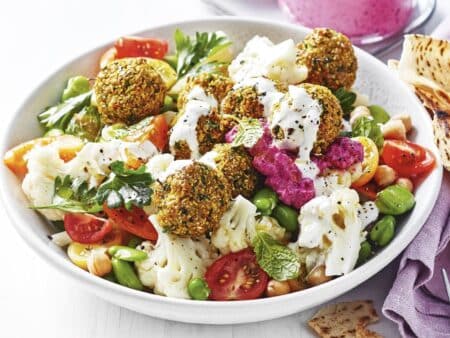 If you're someone who is bored of eating the regular cucumber-tomato salad or even if you're not a salad fan at all. Worry not, we've got an ideal option of delightful salad just for you!! Treat your taste buds with the amazing Falafel Salad. This stunning bowl of colorful Falafel salad is nothing but a bowl full of magic.
6. Chocolate + Golgappa = Chocolate Golgappa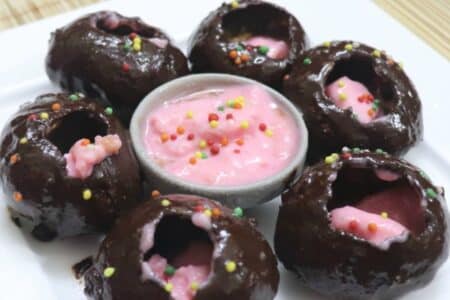 "Aree bhaiya, ek plate pani puri dena. Ji thoda teekha pani zyada daalna aur kaanda bhi." Sounds familiar, right? 😛 But ever heard of chocolate golgappa? You're might be wondering no, how on the earth can we put together two of the classic foods i.e Chocolate and Golgappa!! Believe us, this will leave your heart melting of-course! The irresistible and blissful chocolate golgappa is filled with nuts and dipped in the creamy chocolate milk shake. You can also fill any of your favorite thick shake in it and enjoy!
7. Mango + Sushi = Mango Sushi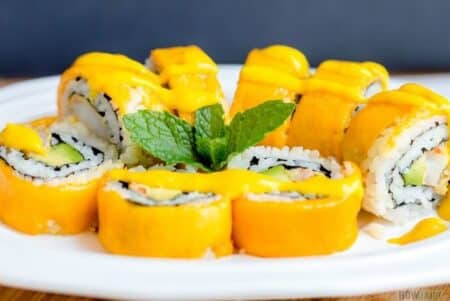 It is the most fun way to bring sushi on a plate with the oh-so delightful king of fruits – Mango. Moreover, this dish combines two amazing delights into a glorious meal indeed. Mango Sushi is certainly love if you happen to be a fan of mangoes and Japanese cuisine. The heavenly taste of rice cooked in milk and mangoes rolled up in a sushi is all you'll want to relish after a busy busy dayy. Serve this combination of mouth-watering platter as an evening snack or as a dessert after a heavy meal.
8. Cheese + Jalapeno Kachoris = Cheese Jalapeno Stuffed Kachoris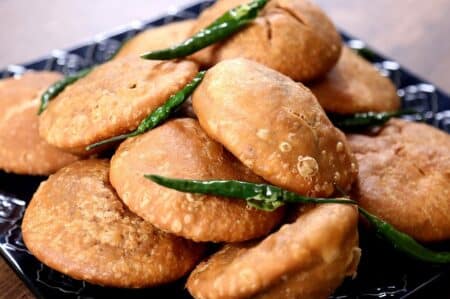 The glorious and mouth-watering mash-up of cheese and jalapeno kachori will definitely leave you craving for more and more! Cheese Jalapeno stuffed kachori is one of the unusual and tastiest snack dishes. The best part about it is that you can put as much cheese as you want and the kachoris become more tempting! Also, we know that you're always looking for a reason to relish more cheese just like us. The why to worry when cheese kachoris are here!!! Tell us how you like it after trying these tasteful fusion dishes.