Every Amdavadis' constant mood in terms of food is, " Yeh Dil Maange More". We are always in search of new delicacies to try or new cafes to visit. The Cafe-Hunt never stops. And amid the chase, they have newfound love in the face of Rooftop restaurants in Ahmedabad. The bustling city now slows down in the evening while sipping coffee at new rooftop restaurants.
It is indeed fascinating to watch everyone admiring the orange-tinted sky and ordering their favourite cuisine. Well, the city is sprawling with innumerable food joints. So let us take you through the top 5 rooftop cafes that will become your absolute favourite.
Top Rooftop Restaurants in Ahmedabad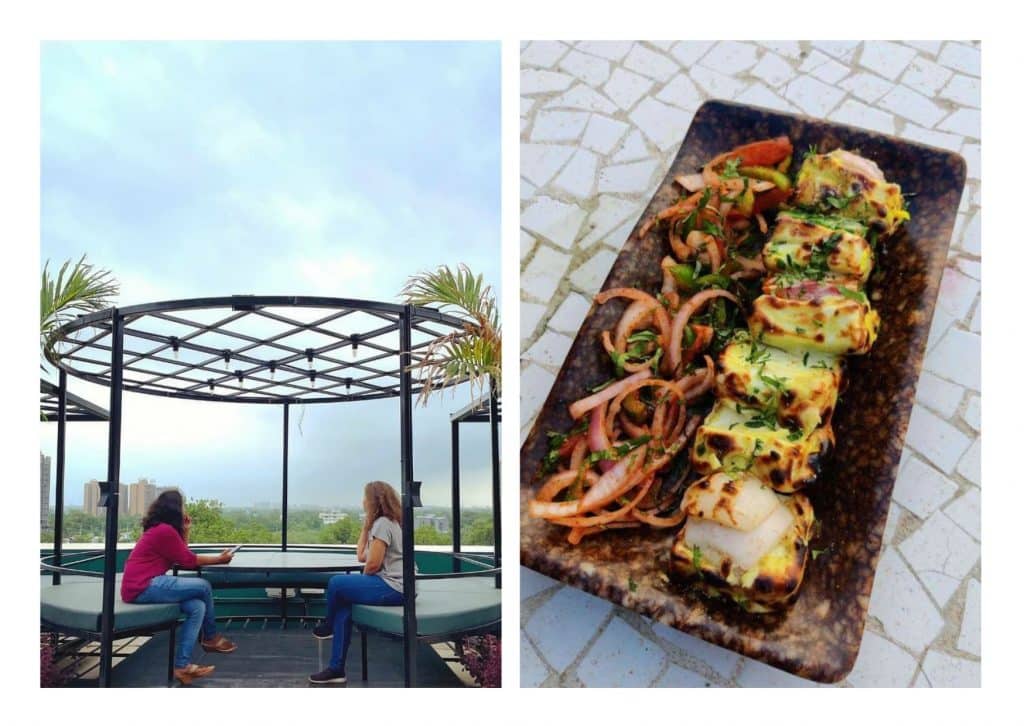 Located at one of the prime locations in Ahmedabad, Rooftop Stories offers a stunning view to its visitors. It is a great place to unwind and relish your favourite cuisine. The restaurant has both outdoor and indoor seating. But please sit in the air, we insist. The scenic view from the cafe is eye candy. You can soak in the city madness from here.
If you are a food experimenter, try out some fusion dishes while watching the mesmerizing sunset. It is the best place to throw a grand party!!
Tell your stories over spaghetti at Rooftop Stories.
Avg Cost: ₹700 for two.
Location: Thaltej, Ahmedabad
Must-Try Dishes: Paneer Tikka, Alfredo Pasta, Zucchini Wrap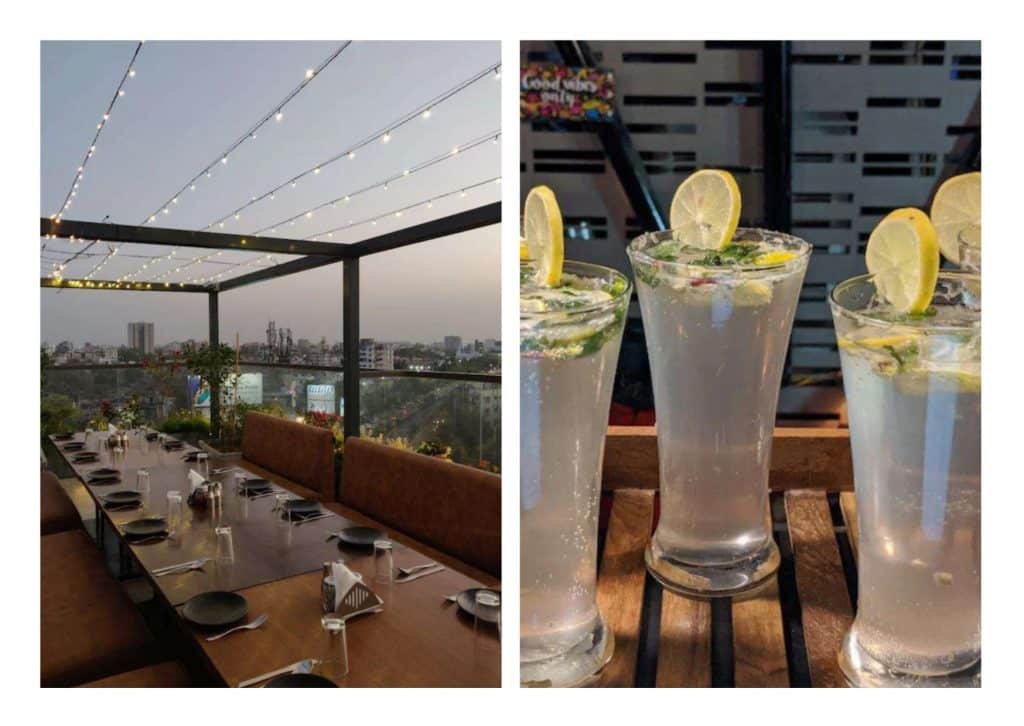 Are you looking for a relaxing place to sit back and reflect? Then, uptown Dusk Bistro is the place for you. Situated in the satellite area, this cafe offers a majestic dusk vibe. Also, the breeze is calm and soothing throughout the evening. It is a great hangout spot and serves mouth-watering delicacies too.
While you are at the cafe, hog on authentic Italian dishes and sip mint mojito; the cozy ambience will not let you leave the place soon. You would feel at peace here. Oh, and are you planning your first date? This might be the perfect choice for you!
Avg Cost: ₹1,000 for two.
Location: Satellite, Ahmedabad
Must-try dishes: Mint Mojito, Quesadillas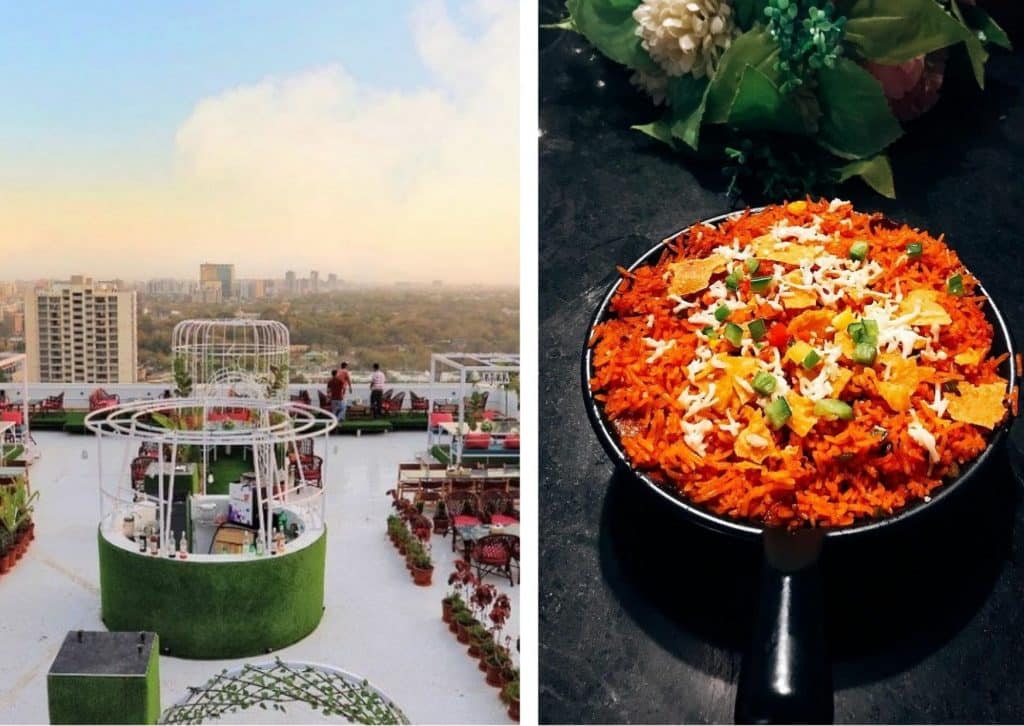 Pehar is located at the highest vantage point in the city. It is best known for its cage theme, making it an aesthetic spot for a Friday dinner. The place is aesthetically pleasing to its visitors. You can get Instagram-worthy pictures at Pehar.
Along with the gorgeous ambience, Pehar serves delectable Mexican hot pots. We're still licking fingers over it! The best time to visit this place is post-sunset when the sky is painted in beautiful colours. Reach the highest point in Ahmedabad and view the city from a bird's eye view.
Avg cost: ₹1,000 for two.
Location: Satellite, Ahmedabad
Must–try dishes: Mexican Hot Pot, Supreme Nachos
4. Veranda – A Beautiful Balcony

Cherish the moment you are in has to be the biggest takeaway of the year. And with that notion, welcome a beautiful rooftop cafe, Veranda. It is the go-to place for every Amdavadi because of its versatility. It is packed with live music sessions, a special balcony bar, and a live screening of events and games. The view from here is alluring, and you won't be disappointed. For the cuisine, order Chinese food. Of course, you would be tempted to try every dish from the menu, but hey, save it for the next visit. If you are planning a family gathering, Veranda will make up to be a perfect choice.
To sum up, Ahmedabad's heart lies in Veranda.
Avg Cost: ₹800 for two.
Location: Shyamal cross roads, Ahmedabad
Must-Try Dishes: Burnt Garlic Noodles, Continental sizzler, Dal Makhani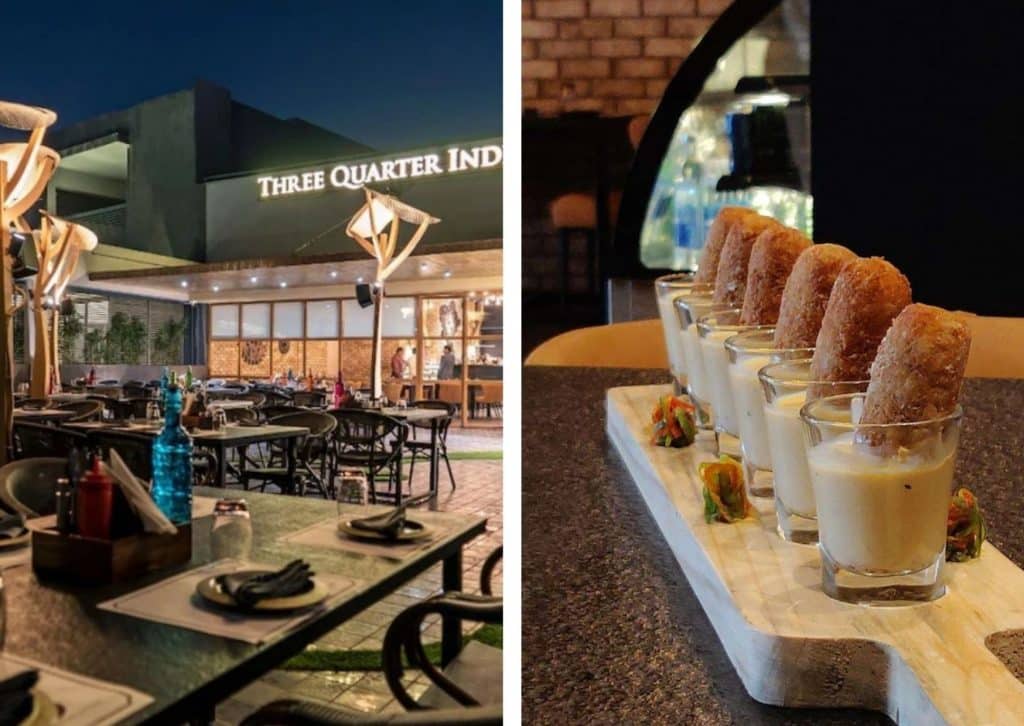 Three-Quarter Indian is the talk of the town. This newly opened rooftop cafe is attracting visitors from distinct corners of Ahmedabad. It offers a surreal view of our beloved city along with authentic dishes. In addition, the restaurant holds a live music session every Friday. So if you want to twirl your legs while eating lip-smacking delicacies, choose Three-quarter Indian. It is an unmissable experience, for sure.
Avg Cost: ₹1,000 for two.
Location: Satellite, Ahmedabad
Must-Try Dishes: Cheese Cigar Rolls, Aglio Olio
We're sure you are already tempted to visit one of these to unwind and enjoy a pleasant view. So do jump on the bandwagon and try out the Rooftop restaurants in Ahmedabad. Whenever you visit one of these places, do not forget to take a snap of the stunning sunset. It is safe to say that you will not be dejected. Ahmedabad is investing its love in the right place.