Gujaratis and food are like a combo which you get to see everywhere. And when you are in Ahmedabad, you cannot miss out on the best dishes to try around you. Right from, desi street-side delicious food to high-end cafes and restaurants you get it all here. Still, there are some places that are very famous since its inception and it should also be on your bucket list while you are in Ahmedabad. Here are street food places in Ahmedabad for you to try out.
Street Food Places in Ahmedabad

Amdavad aavine Manek Chowk na jao to su kaam nu? This place is a complete package for all the street food lovers as they serve almost every type of street food. And as you can see, the amount of butter they put in every dish… you cannot even think about it! 😋

While you are on a shopping spree at Law Garden, enjoy the spicy street food such as Bhel, Sev Puri, Chole Kulcha, Bhungra Bataka, Maggi, Pani Puri, and the list is never-ending.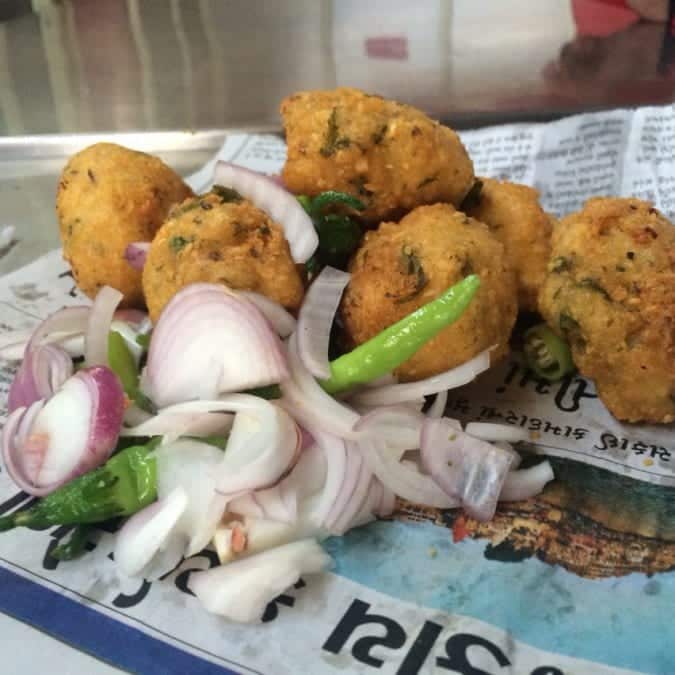 Monsoon and Dalwadas are love! And that place which gets flooded during rains is none other than Ambika Dalwada. The best place serving piping hot dalwadas which you cannot resist yourself from having one!
4. Roadside Maska Bun and Chai

Savar savar ma makhan varu maska bun and garma garam chai, biju su joie? To start your day with a light breakfast, have this Butter Jam Maskabun and you're done! And after having one, you'll tempt to have this daily, I bet!

Fafda and Gathiya to aakha Gujarat ma vakhnai che, pan Iscon na Gathiya ni to vat aj alag che! Head to this place, if you want to have a variety of Gujarati Naasto for your breakfast.

Das Khaman is a place to satisfy all your Gujarati Farsan cravings! Apart from Khaman, they also serve a variety of snacks and packed food items which will surely remind you about your mummy's handmade Gujarati snacks.

One of the best place to have Indian style burgers and puff in Ahmedabad! You'll literally drool over this desi burger and wouldn't be able to stop yourself from having another one.

Searching for scrumptious and spicy chaats in Ahmedabad? Diwan Pakodi Centre is here to your rescue. Have a plate of dahi puri here and you'll fall for it again and again.